Once upon a time... An open-air gallery in Lamastre!
Posted on 06/08/2018 in category
News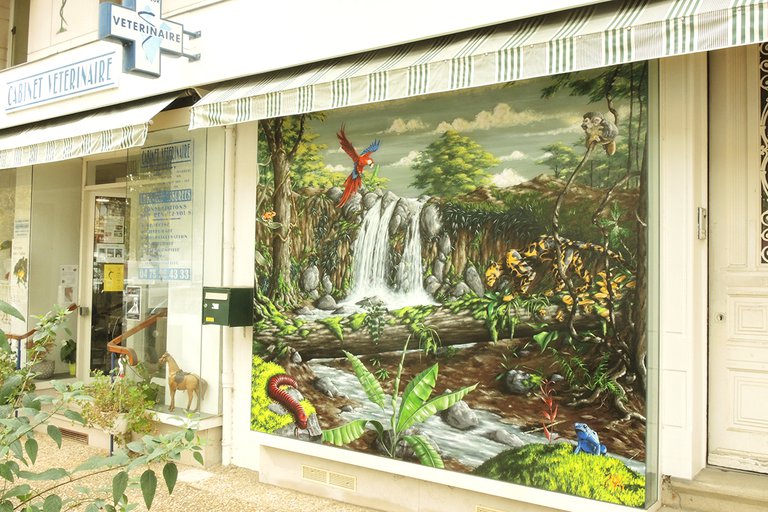 Do you want to escape, to let yourself go into a daydream for a walk? 
Come and live an open-air experience in complete freedom. Stroll through the streets of Lamastre and Désaignes, discovering permanent or temporary works of art. 
Portrait of one of the artists who honour art in our villages:
 
Mickaël Valet - all-terrain painter - Saint-Barthélémy-Grozon
 
"I practice painting as a journey to meet nature and my contemporaries. After spending a childhood contemplating Nature and drawing, I studied applied arts and fine arts for ten years.
From there a practice of art outside the studio and off the beaten track was born. Street painting (with Christmas windows) was at first a way to finance my work. It is now my work, I am an all-terrain painter.
In this way, I respond to the desire of my sponsors in many ways, bringing a touch of beauty and poetry, celebrating Nature and its inhabitants".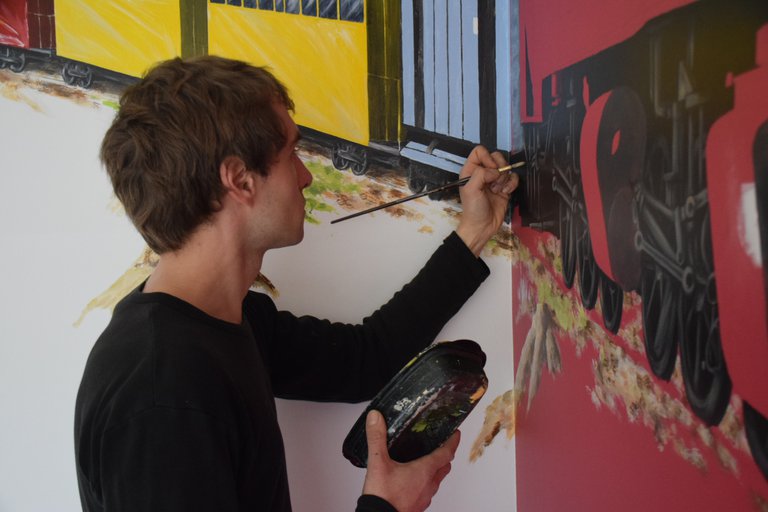 Mickaël Valet - "all terrain painter"
Each work of Mickaël Valet is unique and "made to measure".
His paintings and murals invite to lightness, sweetness of life and contemplation. A suspended time which also allows exchange and sharing:
"Each new painting creates a micro-event in the urban fabric and generates new encounters."
Mickaël remembers: "Perched at the top of a stepladder one evening at the Festival of Lights in Lyon, Place Bellecour, drowned in a continuous stream of passers-by, I was painting a spadeful woodpecker with my finest brush. It was then that out of the hubbub, a voice called out to me. Then begins a discussion, as fascinating as it is improbable, with a man who is an avid ornithologist, about the morphological differences between a spotted woodpecker and a spotted woodpecker.
It is for this moment and all those moments of grace that I paint in plain sight."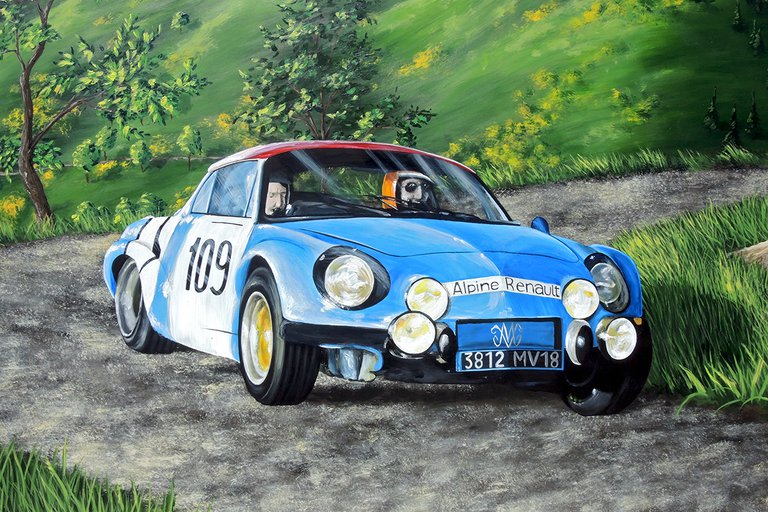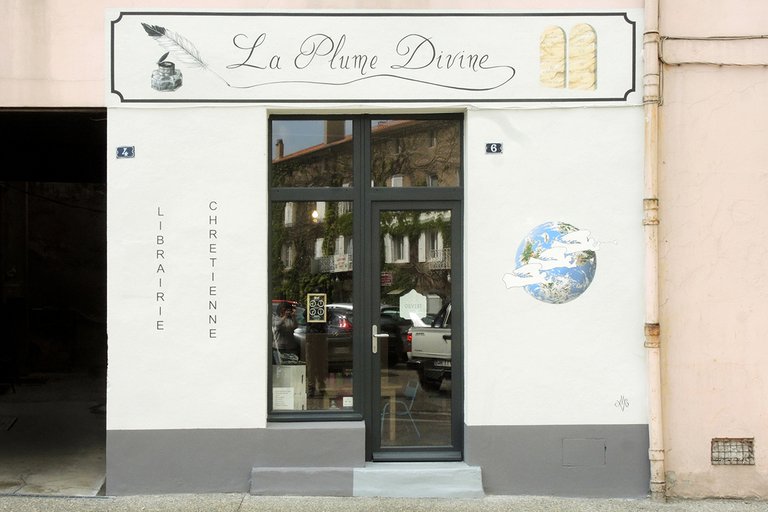 A beautiful and poetic escape awaits you in the Land of Lamastre!
In Lamastre, Désaignes, or Empurany, Mickaël Valet transmits through his brush, the importance of Nature, the seasons, but also the historical and natural elements specific to the Pays de Lamastre and which have contributed to its development. A visit with free access, through squares and alleys, which opens to new perspectives, an ode to the beauty of living beings but also simple things.
 
Some permanent works by Mickaël Valet :
 
- The jungle", showcase of the Mercadal veterinary practice - Place Seignobos, Lamastre - 2018
- Alpine", showcase of the former Fixe Auto - 22, place Montgolfier, Lamastre - 2018
- La Plume Divine", showcase of La Plume Divine - 6, place Rampon, Lamastre - 2019
- Bird of Paradise", showcase of La Belle Epoque - 2, place Rampon, Lamastre - 2018
- Roaring Twenties", mural painting in the Phyldus Chapel in Désaignes - 2018
- Tuscany, end of summer", showcase of the restaurant La Pizz', in Désaignes - 2018
- Fresco on the shop window of the butcher's and delicatessen shop Mougey, in Désaignes - 2019
- " Ardèche Verte ", permanent mural painting made with brushes and siloxane paint. On the bus shelter of Empurany 2019
 
You can also find some of his works, such as the mural painting "Fresque Végétale", during a meal in the room of the hotel-restaurant Les Négociants, 14, place Rampon in Lamastre.
While having a tasty coffee at Kaopa Café, 25 rue du Savel in Lamastre, you can admire " La chèvre Kaopa ", painting on the roaster!
(These frescoes are not free access as they are located inside the shops).
 
You can also find the works of Mickaël Valet on other towns in Ardèche and outside the department by clicking on the following link:
 
https://www.behance.net/mickaelval0987